Yellow Belts usually manage projects of smaller scope with shortened expected completion times. They participate on teams led by a Green Belt or Black Belt and there may be several Yellow Belts and/or Green Belts on a team.
Yellow Belts learn to identify wastes and "see" the hidden factory losses. They are also expected to a have a basic understanding of statistical tools but usually do not get involved in creating and managing DOE's.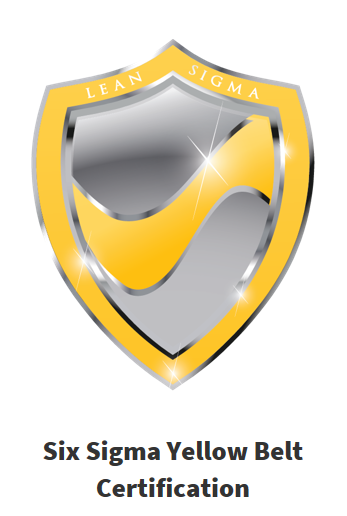 Earn your Lean Six Sigma Yellow Belt certification from our partner affiliate and industry leader in Lean Six Sigma training. This course offers coverage of the Define, Measure, and Control phases in Six Sigma Methodology.
Through eLearning modules that are professionally narrated and interactive quizzes, you will receive the best online Yellow Belt certification. The Lean Six Sigma Yellow Belt certification will prepare you for a deeper understanding of Six Sigma, providing you opportunities to better attack projects in your career.
You will be well prepared to converse and pace with progress and direction of certified Black Belt and Green Belts, as they work through even the most advanced Six Sigma projects.
Order this downloadable Yellow Belt curriculum in .pptx or .pdf which includes the following: Click on one of the two logos above for .pptx or .pdf options. 
Certificate programs are less rigorous than Green Belt or Black Belt programs and usually consist of the following: 

Yellow Belt Certification usually requires knowledge or execution of the following tools: