Six Sigma Black Belt
(SSBB)

Certification

Six Sigma BLACK BELT

A Six Sigma Black Belt will be an expert on the subject matters of Lean Manufacturing and statistical analysis. Their goals are to reduce the variation of a process and shift the process performance to a desired target.

They usually work as full-time Black Belts and mentor Green Belts and Yellow Belts. Black Belts often provide training to newer Black Belts, Green Belts, and Yellow Belts.

Some companies will keep them as permanent Black Belts, others will have a repatriation process where top performers become certified and a few years later are placed back into a non Six Sigma role in the company with the idea of using the concepts in this new role.
---
Black Belt - Online Certification Course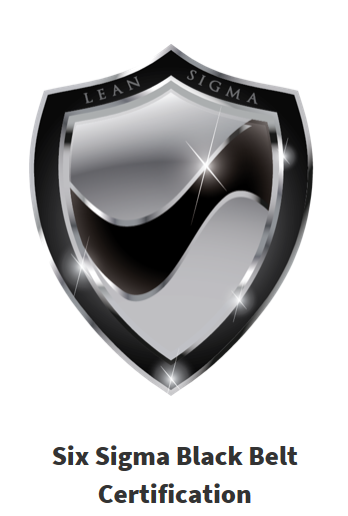 Earn your Lean Six Sigma Black Belt certification from our partner affiliate and industry leader in Lean Six Sigma training. This certification training will prepare you to successfully lead and execute Lean Six Sigma projects, perform Six Sigma analysis, and use the D.M.A.I.C methodology.
The program is 100% online and certification can be achieved at your own pace. It's comprised of professionally narrated eLearning modules, interactive quizzes, tests and exams.
All delivered through a system that you will have access to 24 hours a day, 7 days a week and for as long as you wish with our "Forever Access" policy.
Training Features:
Professionally Developed eLearning Modules
Interactive Quizzes
5 Chapter Tests (one for each phase of DMAIC)
Six Sigma Black Belt Certification Exam
System Features:

Perpetual System Access
Forever Access Policy
Group and Private Chat Forums

Glossary Tools
Templates for Professional Use
"How to" Articles

Click here to learn more about these accredited, self-paced online courses. 
---
Black Belt Material - Download
Order this downloadable Green Belt curriculum in .pptx or .pdf which includes the following: Click on one of the two logos above for .pptx or .pdf options. 
Aligned to CSSC, ASQ, and IASSC BOKs

Content packaged in a zip file with the core curriculum in .pptx or .pdf format

Curriculum Page Count: >1300

Dozens of templates, tables and other tools in xlsx, docx, and pdf format

Accredited Training Material
---
Typical Certification requirements:
160-360 hours of coursework

Proof of at least one project completion - fluency of core tools

Evidence using project management tools

Evidence showing application of statistics and hypothesis testing

Evidence of understanding the Lean principles

Mentoring of other Black Belts, Green Belts, White Belts, or Yellow Belts

Written examination

References
Black Belts should possess a complete understanding of basic statistics and hypothesis testing. The objective is that the training will carry over into the work behavior and habits of each repatriate and the company will develop a foundation that operates within these principles.
Black Belts are also expected to have ability to run a DOE but these frequently will involve a Master Black Belt due to risk of investment.
Black Belt certifications programs are more rigorous than the Green Belt program but less than a Master Black Belt program. Projects tend to be of higher value and complexity than a Green Belt project.

There are also over 100 example certification problems available for subscribers of this site. Many of the problems have further explanations along with additional developmental material that can be found within this site.
---
Link to new Six Sigma Material
Search active job openings related to Six Sigma
Return to the Six-Sigma-Material Home Page