Six Sigma Master Black Belt
Six Sigma MASTER BLACK BELT
A Six Sigma Master Black Belt are the subject matters experts for Lean Manufacturing and statistical analysis. Their goals are develop curriculum, mentor, provide direction to Six Sigma program, and lead projects with highest financial or risk impact within an organization.
These individuals have a passion to coach with a proven track record of project and change management. At this level, change management is at least as important as holding a firm understanding of advance statistics. 
Some of the topics expected to learn are: 
500-1,000 hours of coursework
Review of completed projects
Evidence using project management tools
Evidence showing application of statistics and hypothesis testing
Evidence of understanding the Lean principles
Mentoring of other Black Belts, Green Belts or Yellow Belts
Written examination
References
There are also 180+  example certification problems  available for subscribers (or you can purchase the exam separately) but these problems are concentrated around certification for Black Belts and Green Belts. Many of the problems have further explanations along with additional developmental material that can be found within this site.
Some of the advanced topics a Master Black Belt  will learn are:
Handling attribute responses

Optimization 

Advanced regression

Non-parametric statistics and hypothesis testing

Destructive testing

Advanced Statistical Process Control

Mixture Designs

Nested Designs
---
Six Sigma Training Slides
If you are a MBB looking for Lean and DMAIC Six Sigma training slides, we have over 1000+ pages of material in .pdf format across the most commonly used tools. Each module is prepared as its own presentation so you can arrange the sequence as you feel fit. 
With the modules are examples and links for further research. These slides are more than suitable for a Yellow Belt and Green Belt level and meet most of the criteria for Black Belts. 
The package also comes with a 180+ practice exam questions. 
You can reach us at
sixsigmamaterial@gmail.com
We can tailor the package (to some extent) to meet your needs and discuss multiple copy discounts.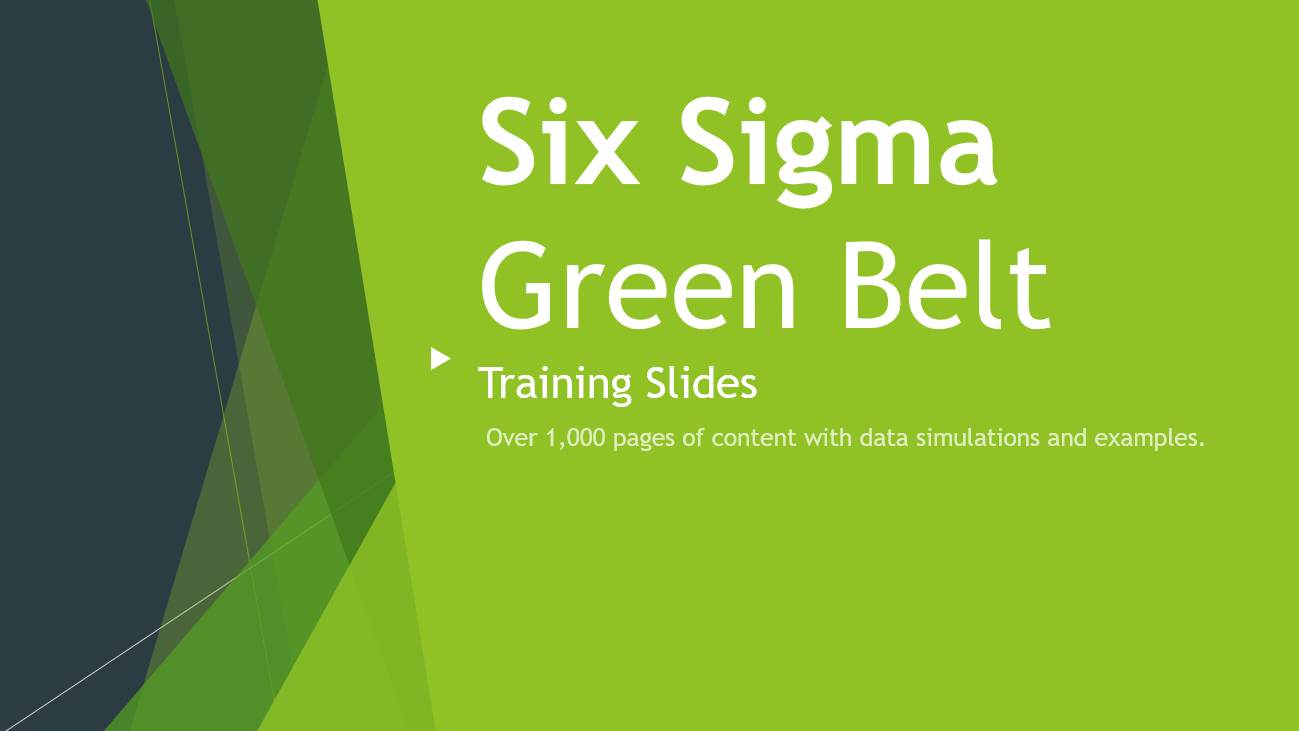 ---
Subscribe to access all materials
Return to the Six-Sigma-Material Home Page
Oct 18, 21 09:32 AM

Determing the process capability indices, Pp, Ppk, Cp, Cpk, Cpm

Sep 14, 21 09:19 AM

Six Sigma Calculators, Statistics Tables, and Six Sigma Templates to make your job easier as a Six Sigma Project Manager

Aug 16, 21 01:25 PM

Six Sigma Templates, Tables, and Calculators. MTBF, MTTR, A3, EOQ, 5S, 5 WHY, DPMO, FMEA, SIPOC, RTY, DMAIC Contract, OEE, Value Stream Map, Pugh Matrix